Admin - Danangtransfer.vn
Hue (Huế) – Lots of historical monuments, beaches and intersting landscape. Hue is in central Vietnam (Thừa Thiên-Huế province) is connected to the imperial Nguyễn Dynasty, based in Hue, who ruled from 1802 to 1945, when the Emperor Bao Dai abdicated in favor of Ho Chi Minh's revolutionary government. Hue has a rich history and it is the former imperial capital. Hue has also the international airport, so it is not a problem to visit this place by daily flight from Hanoi or Ho Chi Minh City. Travel distance from Da Nang to Hue is about 100 km by land.
---
How to get from Da Nang to Hue?
You can travel by train, open bus, taxi, private car , motobike

How to get from Da Nang to Hue?
When travelling to Danang, many people choose Hue for the next destination. Hue is about 100 km North West of Da Nang (Google map). Now, let Danangtransfer introduce you "How to get from Da Nang to Hue".
Taxi is possibly the fastest and the most convenient way to travel from Da Nang to Hue but the price is quite high. In general, the price for 5 seats taxi ranges from 1.200.000VND to 1.500.000VND, for 7 seats taxi is from 1.500.000VND to 1.700.000VND.
If you intend to move to Hue city by taxi, you can book in advance a Private car from the webiste of Danangtransfer.vn/en
With Danangtransfer, more and more passengers attend, cheaper and cheaper the price is.
| Private Car | Picture of the car | Price USD | Price VND |
| --- | --- | --- | --- |
| Sedan (Max 3 Pax – 2 Baggages) | | 45USD/Car | 990.000VND/Car |
| MINIVAN (Max 4 Pax – 3 Baggages) | | 50USD/Car | 1.100.000VND/Car |
| VAN (Max 8 Pax – 6 Baggages) | | 70USD/Car | 1.540.000VND/Car |
| | |
| --- | --- |
| Inclusion | Private Car with driver can speak basic English, Petrol, Road tolls, Parking fee. |
| Exclusion | Meals, Guide, Entrance fee, Personal fee. |
To book directly a car from Danangtransfer, you can click here.
If you need any support from Danangtransfer team, feel free to contact us via email danangtransfer.co@gmail.com
or our English Support line ( Hotline/Zalo/Viber/Wechat/Kakaotalk/Line/Whatsapp) : (+84)949537755
Shuttle Bus from Da Nang to Hue
Shuttle bus from danang airport to hue or bus from danang to hue is a popular choice
If you want to travel to Hue by shuttle bus, you can refer to the phone numbers of some transportation company, below:
The SinhTourist : (+84)-28 3838 9597
Phuong Trang (FUTA Bus Lines) : 1900 6067
HAV Limousine : (+84)234 6 545454
Truong Thinh Limousine : 0936 509 809
Huetourist : 0913 558 464
KT Travel Hue : 090 561 57 15
Hoang Long :0225 3920920
Train from Danang to Hue
The distance railway from Da Nang station to Hue railway station is about 103 km.
There are 7 trains such as SE2, SE4, SE6, SE8, SE20, SE22, and TN2. The chairs include hard chairs, soft chairs, hard beds (6 beds) and soft beds (4 beds). Each cabin including the chairs is designed with air conditioner and comfortable seating. The price is usually from 170.000 VND to 200,000 VND depending on the type of ship and the type of seat.
An interesting point of the train is that you might comtemplate the scenery of the Truong Son Mountain range of Hai Van Pass and enjoy many other scenic places where the train passes.
Motorbike from Da Nang to Hue
For who likes backpacking tourism, you can also travel by motorbike from Da Nang to Hue. If you ride a motorbike from Da Nang to Hue and vice versa, you can go through road pass or tunnel.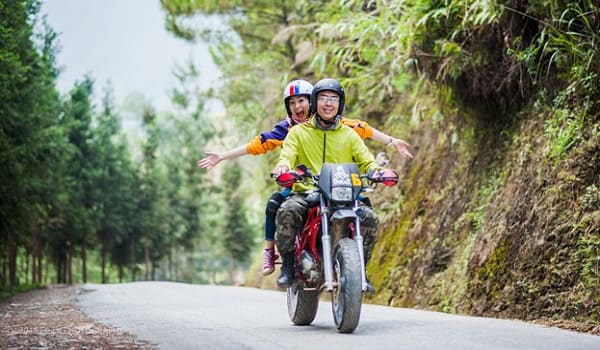 If you follow Hai Van Pass, you can stop by to comtemplate Lang Co, Hai Van,…This will be a very interesting experience. However, the robbery situation sometimes happens on this route so you need to be careful. If you follow the pass, it is better not to go too soon in the morning or too late in the evening because it will not be safe.
If you go to the tunnel, you drive to the tunnel, park your motorbike at the office of the tunnel management Hai Van Pass. The truck will pick up your motorcycle through the other side of the tunnel, and you will take the shuttle car and pick up your vehicle at the other tunnel.
---
Summary of travel route from Da Nang to Hue
How long does it take from Da Nang to Hue?
– Travel by train from Da Nang to Hue takes about 2,5-3 hours.
– Travel by bus/van from Da Nang to Hue takes about 3-4 hours.
– Travel by taxi/private car from Da Nang to Hue takes about 2,5-3 hours.
What is the travel distance from Da Nang to Hue?
– Travel distance from Da Nang to Hue is about 100 km.
How much does it cost to travel from Da Nang to Hue?
– Travel by train from Da Nang to Hue costs about $3-8 (had, soft seat).
– Travel by taxi/private car from Da Nang to Hue costs about $45-80.
It is possible to travel from Da Nang to Hue by van?
Yes it is possible to travel by van. A good way of transport if you are traveling in a group of people. You can use eg. Danangtransfer.vn